Description
Pancho Tours is the pioneer of Walking Tours in Seville since 2009. Why are the Monument Tours free? Because you choose the value!
Our Monument Free Walking Tours are mostly about the history of Spain and Seville since 1492 until now and 365 days a year (come rain or sunshine)!
In 1503 Seville was chosen by Isabel and Fernando, 'the Catholic monarchs' as the incoming port with the monopoly of all the 'Indian' products with the construction of the 'House of Trade'.
Seville lives as the biggest and richest city the Golden Age of Spain.
This tour covers:
CATHEDRAL & GIRALDA (only the outside walls)
DOOR OF FORGIVENESS

ARCHIVES OF INDIA
ROYAL ALCÁZAR (only the outside walls)
GOLDEN TOWER (only the outside walls)
LUXURY HOTEL ALFONSO XIII
TOBACCO FACTORY
MARIA LUISA PARK/CASINO EXPOSITION
PLAZA DE ESPAÑA: the highlight of this tour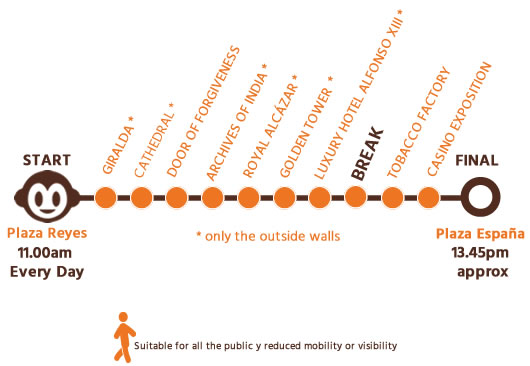 Lunch all together: optional, the most fun and interactive part of our tour.